ISSA is now partnered with F45 Training



Meet ISSA's Newest Preferred Partner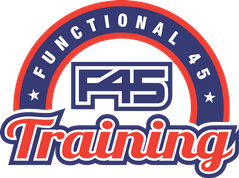 F45 Training is a global fitness community specializing in innovative, high-intensity group workouts that are fast, fun, and results-driven. F45s training mentality is specifically designed to provide a functional full-body workout while improving energy levels, metabolic rate, strength, and endurance.

"F45 is a strategic partner for us and we're extremely excited that they chose us to provide their trainers with top-rated education," said Andrew Wyant, CEOof ISSA. "We know the F45 brand has a loyal following and we think our trainers are perfect fits for what they are doing in the community."

"We are thrilled to offer our franchisees and staff preferred pricing through the ISSA partnership in the U.S. Having certified personal trainers is vital to our business and the success of F45 franchisees, and the lower certification costs from a reputable organization will enable individuals to become personal trainers at a more accessible price point - which will make it easier for franchisees to keep current and future gyms staffed," said Adam J. Gilchrist, President, CEO, and Chairman of F45. "As we continue to grow, we recognize that there is a need to find solutions to staff our locations, and we can't wait to see how this partnership will benefit our business as we continue to grow."

F45 Training and ISSA are also excited to announce a partnership that will provide F45 partner institutiions with up to 20 free Personal Training Certification courses per year. Both F45 and ISSA understand the importance of providing high-quality and affordable professional development opportunities for university communities. With the rising cost of education and fitenss certifications, we want to do our part in helping university fitness programs continue to thrive and act as a breeding ground for the fitness leaders of tomorrrow. In adddition to up to 20 free yearly Personal Training Certifications, F45 partner institutions will also have exclusive access to preferred pricing for ISSA specialization courses.

We believe and educated trainer is the best trainer, and through our partnership with F45, we are providing our current and future trainers with an amazing place to succeed in their career as a Personal Trainer. Together, ISSA and F45 will transform lives through the power of fitness.


ISSA's Preferred Partnership Program
International Sports Sciences Association (ISSA), a world leader in the personal training certification industry, is proud to announce F45 as their latest Preferred Partner.

As one of the top-rated fitness and wellness certifications in the industry, ISSA's preferred partnership program aligns trusted fitness education with organizations across the globe. With over 475,000 students worldwide, ISSA works with local, national, and international clubs to partner on hiring needs, discounts, and exclusive deals!


What our customers say about us:
I found it to be challenging, informative, and very current. ISSA provides great communication and they are always there from start to finish.

Melissa Remoli
ISSA Alumni

I highly recommend anyone who is in this field or career and to take ISSA, they are very helpful, professional and they help you expand in the personal training, fitness and healthy lifestyle.

Joel Bunche
ISSA Alumni

The best part about ISSA, is when you call, you talk to a real person. They are quick to respond, answer all of your questions and help guide you to be successful.

Aftann Taijeron
ISSA Alumni